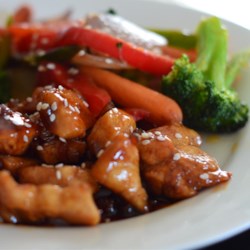 You Will Need:
1 tablespoon brown sugar

2 tablespoons honey

1/4 cup soy sauce

2 teaspoons chopped fresh ginger root

2 teaspoons chopped garlic

2 tablespoons hot sauce

salt and pepper to taste

4 skinless, boneless chicken breast halves - cut into 1/2 inch strips or 1 lb. Chicken Tenders

1 tablespoon vegetable oil
Directions:

Mix together brown sugar, honey, soy sauce, ginger, garlic and hot sauce in a small bowl.

Lightly salt and pepper the chicken strips.

Heat oil in a large skillet over medium heat. Add chicken strips and brown on both sides, about 1 minute per side. Pour the sauce over the chicken. Simmer uncovered until the sauce thickens, 8 to 10 minutes.
NOTE: This recipe is super easy & super yummy!