You'll Need:
2 meaty soup bones

2 tablespoons kosher or sea salt

5 stalks celery, chopped

1 onion. chopped

1/2 teaspoon ground black pepper
1 teaspoon thyme & 1 bay leaf (if desired)

1/2 pound baby carrots

1/4 cup fresh parsley or 2 Tablespoons dried parsley

5 Tablespoons crushed garlic
Directions:
Place meaty soup bones in a larger slow cooker. Add salt, celery, onion, seasonings, pepper, carrots, parsley and garlic. Fill slow cooker within 2 inches of the top with hot water and cook covered for 6 hours, on high, stirring occasionally.

Add barley and cook for 2 more hours stirring occasionally. Meat will fall off of bones.

Remove and discard bay leaf & bones.

Stir and serve with hot crusty rolls.  Makes 8-10 servings.  Leftovers can be frozen & reheated for a quick meal.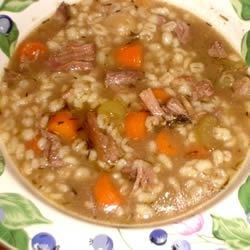 *Adapted from allrecipes.com for a healthier & easier meal using grass-fed beef meaty soup bones.  This is a great meal on a cold, blustery day!