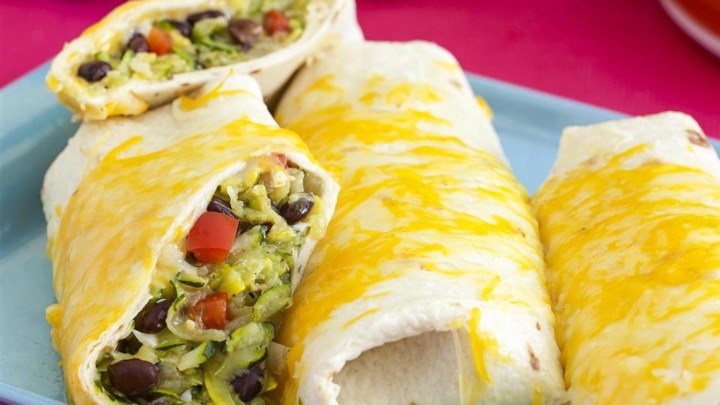 You'll Need:
2 tablespoons olive oil

1/2 onion, chopped

2 cloves garlic, pressed

2 zucchini, shredded

1 large yellow squash, shredded

1/2 red bell pepper, chopped

1 (15 ounce) can black beans, rinsed and drained

1 cup green salsa

1/2 teaspoon ground cumin

1/2 teaspoon ground cayenne pepper

1 (8 ounce) package Mexican style shredded cheese blend, divided

6 burrito-size flour tortillas
Directions:
1. Preheat oven to 350 degrees F. Grease a 9x12-inch baking dish.

Heat the olive oil in a large skillet over medium heat, and cook the onion and garlic until the onion is translucent, about 5 minutes. Stir in the zucchini, yellow squash, and red bell pepper. Cook, stirring frequently, until the zucchini and squash are tender, about 10 minutes. Stir in the black beans, green salsa, cumin, and cayenne pepper. Cook and stir the filling until it thickens, 5 to 8 more minutes.

Divide one of the packages of Mexican-style cheese among the tortillas. Spoon zucchini-squash filling into each tortilla, over the cheese, in a line down the center. Roll up the tortillas, and place them into the prepared baking dish with the seam sides down.

Bake in the preheated oven until the cheese is melted and the tortillas are heated through, about 15 minutes. Sprinkle the other package of shredded cheese over the tortillas before serving.