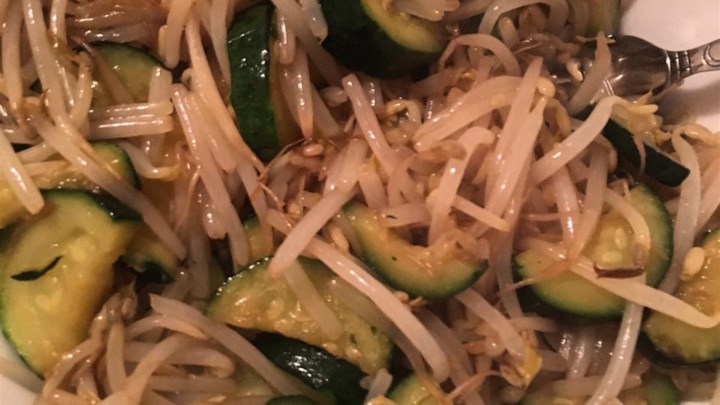 WHAT YOU WILL NEED:
1 teaspoon cornstarch
2 tablespoons water
1 tablespoon soy sauce
2 tablespoons olive oil
3 tablespoons vegetable oil
1 carrot, sliced
1 red bell pepper, chopped
1 zucchini, sliced
2/3 cup fresh corn kernels (frozen works well too)
1 clove crushed garlic (or 1 teaspoon minced)
4 green onions, sliced
1 1/3 cups bean sprouts (optional)
How to make this:
Whisk together the cornstarch and water in a small bowl. Mix in the soy sauce and olive oil, and set aside.

Heat the vegetable oil in a cast iron skillet or wok over medium-high heat. Saute the carrot, pepper, and zucchini in oil for about 5 minutes. Stir in the corn, garlic, green onions, and bean sprouts. Pour in the soy sauce mixture. Cook and stir for about 5 minutes, or until vegetables are tender but crisp. Serve immediately.

This is excellent as a side dish for grilled chicken or pork. Add meats to the dish for a one dish supper.
TIP: Teriyaki Sauce can be substituted if you don't have soy sauce.  You can also cook the chicken or pork in the skillet, remove it, then cook your veg in the same skillet for extra amazing flavor!